LAGO Final Sale: Sustainable Scrubs for Healthcare Professionals Coupon Code
LAGO presents an exclusive final sale on its line of sustainable scrubs, meticulously designed for healthcare professionals. When you choose LAGO, you're not just selecting a piece of clothing; you're making a conscious choice for the environment. Our scrubs offer the perfect blend of style, comfort, and eco-friendliness, ensuring you feel good both inside and out.
LAGO Description & Benefits
Eco-friendly Materials
Our scrubs are made from materials that have a minimal environmental impact, promoting a greener planet.
Breathability & Comfort
Designed keeping in mind the long hours healthcare professionals work, ensuring they remain comfortable throughout.
Practical Design
Multiple pockets ensure that essential tools and items are always within reach.
Durability & Easy Maintenance
Our scrubs are built to last, resisting wear and tear. Plus, they're easy to clean and maintain.
Variety
We offer a wide range of sizes and colors to cater to diverse preferences.
Responsible Manufacturing
We have partnered with a small family-owned apparel manufacturer that also produces for some of the world's largest brands such as adidas and ASICS®.
Testimonials
"I've never felt this comfortable in work attire. The sustainability aspect is the cherry on top!"
"Switching to LAGO was a game-changer. They're not just functional; they're also incredibly stylish. I've been receiving compliments non-stop."
"The quality of these scrubs is evident from the first wear. They're durable, comfortable, and eco-friendly. What more could I ask for?"
Are these scrubs versatile enough for different medical roles?

Absolutely! Whether you're a surgeon, nurse, or any other healthcare professional, our scrubs are designed to cater to all roles, ensuring comfort and functionality
How can I ensure the longevity of these scrubs?

Our scrubs are crafted for durability. However, to maximize their lifespan, simply follow the care instructions provided. They're designed to withstand regular washing while retaining their shape and color.
Additional Benefits
LAGO's Sustainable Scrubs are more than just work attire. They represent a fusion of style, comfort, and a commitment to the environment. Each scrub is crafted with precision, ensuring healthcare professionals don't have to compromise on comfort during their demanding shifts. Moreover, by choosing LAGO, you're aligning yourself with a brand that prioritizes sustainability, ensuring that every purchase has a positive impact on our planet.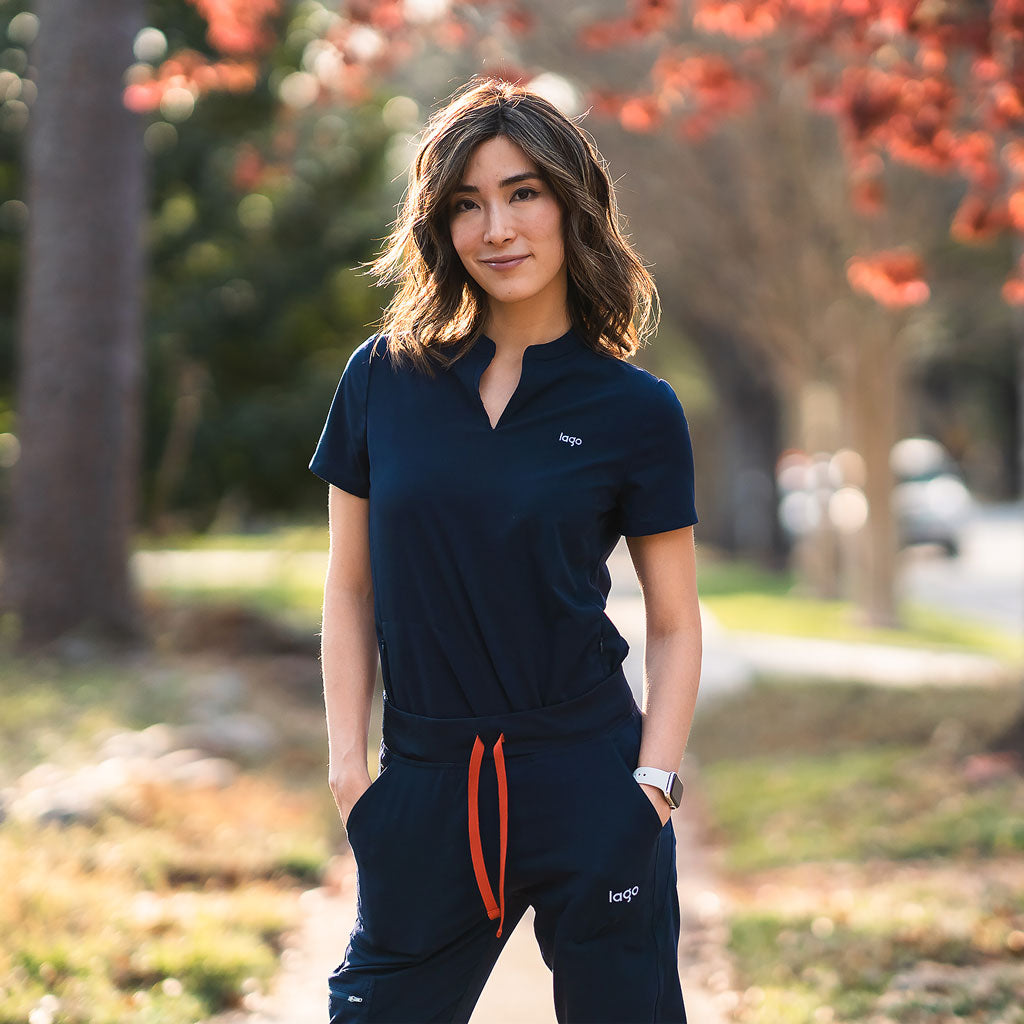 Act Now Before It's Too Late!
This is a golden opportunity to upgrade your professional attire while making an eco-friendly choice. Secure your pair of sustainable scrubs at an unbeatable discounted price. Remember to use the code LAGOFINALSALE during checkout for 25% off. This is a limited-time offer, so don't miss out!